YONDA Group Pty Ltd ACN 635 777 454
MARKETPLACE TERMS AND CONDITIONS
Welcome to Affordable Holidays, powered by YONDA Group!
We are an online marketplace that facilitates the booking of travel related services, including transport, accommodation, activities and more.
This is an agreement between:
YONDA Holiday Club the registered business name of YONDA Group Pty Ltd ACN 635 777 454) (YHC),
Affordable Holidays, a registered business (AH)
YHC's preferred providers of travel services (Provider), and
any travellers that subscribe to the Platform (Traveller).
Whoever you are, this agreement governs your use of the Platform and any Travel Services you offer to sell or purchase through the Platform. Please read this agreement carefully and do not proceed with registering an Account or otherwise engaging with YHC in relation to the Platform if you do not agree to this agreement.
Please note that Travellers who have subscribed to the YONDA Black Tier Subscription must also enter into a separate Membership Agreement with YHC.
1. DEFINITIONS
To help you read and understand this agreement, we've set out in the table below the definitions of key terms that you need to understand. You need to understand the key terms because we use them throughout this agreement.
If a key word is only used within a particular clause, the defined term is the words bolded and in brackets, and the meaning of the defined term is the words / sentence that comes before the bolded words.
Term
Meaning
Booking
the acceptance and purchase of a Listing of Travel Services.
Booking Fees
has the meaning given in clause 6(a).
Commission
the percentage of a Provider's Price that will be payable to YHC as displayed on our website at the time of posting a Listing.
Traveller
any person that registers an Account on the Platform to purchase Travel Services.
Listing
a post on the Platform containing an offer to sell Travel Services.
Platform
this platform, having the URL www.younda.com.au, and any other websites or applications owned or operated by YHC with the same domain name and a different extension or otherwise for the same or similar purposes as this platform.
Provider
any person or entity who sells Travel Services directly to Travellers through the Platform.
Subscription
a Traveller's chosen tier of membership with the Platform, as selected when registering an Account, and described in Table 1.
Subscription Fees
the fees that will be payable to YHC for joining as a Traveller on the Platform, set out in Table 1 and clause 2(a).
Third Party Payment Platform
the third party entity which handles any payments made through the Platform, being Stripe, and having their terms and conditions at

 

https://stripe.com/au/legal.
Provider's Price
the amount nominated by the Provider as the amount payable to the Provider for the Travel Services.
Travel Services
any items or Travel Services offered for sale through the Platform by a Provider.
User
any person that uses the Platform in any capacity, including Providers and Travellers.
2. RELATIONSHIP OF PARTIES
YHC is a passive conduit providing introductory services between Travellers and Providers. YHC provides the Platform only. YHC does not perform any part of the Travel Services itself.
This agreement governs your use of the Platform and:

if you are a Traveller, your Subscription to the Platform (a contractual relationship with YHC) and purchase of Travel Services from Providers (a contractual relationship with Providers); or
if you are a Provider, any Listings you post (or YHC posts on your behalf) to the Platform and your provision of Travel Services to Travellers.

YHC and Providers may enter into separate agreements to govern the commercial relationship between YHC and the Provider (Commercial Agreement). To the extent that any obligation under the Commercial Agreement is inconsistent with this agreement, the terms of this agreement shall prevail to the extent of any inconsistency. This clause is not intended to limit or otherwise affect a Provider's obligation to pay YHC any amount stipulated under a Commercial Agreement.
Providers may have their own terms and conditions (including refunds policies) that apply to a Booking and a Traveller's participation in the Travel Services (Provider's Terms). A Provider's Terms must be provided to the Traveller at the time of making a Booking. In the event of any inconsistency between this agreement and Provider Terms, the Provider Terms will prevail to the extent of such inconsistency (including in relation to refund policies). This clause is not intended to limit or otherwise affect a Traveller's obligation to pay the Subscription Fee to YHC.
3. ACCESS AND ACCOUNTS
You must not access the Platform if you are under the age of 18 years old and do not have your parent or guardian's consent, or if you have previously been suspended or prohibited from using the Platform.
If you are purchasing Travel Services on behalf of another individual, company or organisation, you warrant that you have the necessary authority from that individual, company or organisation to do so.
In order to use most of the functionality of the Platform, all Users are required to sign-up, register and receive an account through the Platform (an

 

Account). Providers may be able to access the Platform without an Account if a Commercial Agreement provides another means for the Provider to create Listings.
As part of the Account registration process and as part of your continued use of the Platform as a Traveller, you are required to provide personal information and details, such as your email address, first and last name, preferred username, a secure password, billing, postal and physical addresses, mobile phone number, bank account information, and other information as determined by YHC from time to time.
You warrant that any information you give to YHC in the course of completing the Account registration process will always be accurate, honest, correct and up-to-date.
Once you complete the Account registration process, YHC may, in its absolute discretion, choose to accept you as a registered Traveller within the Platform and provide you with an Account.
YHC reserves the right to contact you about any concerning behaviour by you, or to seek a resolution with you.
YHC may, in its absolute discretion, suspend or cancel your Account for any reason, including for any failure to comply with this agreement.
4. TRAVELLER SUBSCRIPTION FEES (if applicable)
Upon registration or purchasing a voucher through this platform travellers are automatically subscribed to the GO YONDA free subscription.
5. LISTINGS AND BOOKINGS
Providers may post Listings for travel-related products and services on the Platform.
A Listing may be removed, by a Provider or YHC, and become unavailable at any time prior to a Traveller making payment for the Travel Services.
The number of Listings available to a Traveller depending on the Subscription Tier they have subscribed to.
6. BOOKING FEES
All Listings will be accompanied by Booking Fees, which will be expressed in Australian dollars and is made up of:

the Provider's Price set out in the Listing; and
the Commission received by YHC for providing the introduction,
transaction fees, where such fees are charged by our Third Party Payment Provider; and
credit card surcharges in the event that payments are made using a credit, debit or charge card (including Visa, MasterCard or American Express),
(collectively the

 

Booking Fees).

Travellers are required to purchase a voucher via this platform to activate their account and access their profile. these vouchers are not redeemable for cash or transferable.
The Traveller must pay the Booking Fees in full at the time of the Booking, unless otherwise expressly specified in the Listing by the Provider. Requirements for a deposit for certain accommodation may vary and will be advised in the Listing by the Provider.
The Traveller will receive a confirmation of their Booking made via the Platform once payment has been received by the Third Party Payment Platform. YHC receives the right to cancel a Booking if payment is not made by a Traveller.
After the Third Party Payment Platform receives payment from the Traveller, YHC will ensure that the Third Party Payment Platform transfers:

the Provider's Price and any delivery charges to the Provider; and
the Commission to YHC,
within a reasonable time.

The Third Party Payment Provider will retain any transaction fees it charges. Any credit card surcharges will be transferred to YHC and are non-refundable under any circumstances (unless the provider institution provides a refund to you).
YHC reserves the right to change or waive the Commission at any time by updating the amount displayed on the Platform. The amount displayed on the Platform at the time of posting a Listing is the Commission that will apply to that Listing.
Providers are responsible for the collection and remission of all taxes associated with any transactions made through the Platform. YHC will not be held accountable in relation to any transactions where tax related misconduct has occurred.
In addition to this agreement, your purchase of any Travel Services via the Platform will be subject to the terms and the privacy policy of the Third Party Payment Platform, as set out in the definitions at the start of this agreement. Travellers agree to release YHC and its employees and agents in respect of all liability for loss, damage or injury which may be suffered by any person arising from any act or omission of the Third Party Payment Platform, including any issue with security or performance of the Third Party Payment Platform or any error or mistake in processing your payment.
7. PRICING, VALUE AND SAVINGS
Where the Travel Services include booking a hotel room, we will calculate any discounts or savings that may be available to you using the official or advertised price of a hotel room (the

 

Rack Rate).
As the value of the hotel accommodation may fluctuate due to peak seasons, low seasons and events, we use the Rack Rate as a consistent and verifiable measure to calculate the value of the hotel room and your comparative savings. You agree that the Rack Rates may not reflect the actual rates being charged, but rather are indicative of your level of savings.
8. CONTRACT FORMED BETWEEN PROVIDER AND TRAVELLER
A Listing constitutes the Provider's offer and intention to enter into a binding contract with a Traveller for the sale of the Travel Services.
When a Traveller accepts a Listing and makes a Booking, this forms a binding contract between the Provider and that Traveller, where the Provider will provide the Traveller with the Travel Services in the Booking in exchange for payment of the Booking Fees.
Travellers and Providers acknowledge and agree that YHC will not be a party to any contract for the sale of Travel Services through the Platform.
YHC reserves the right to remove any Listing from the Platform for any reason without notice and without liability to the Provider or any potential User.
Travellers acknowledge and agree that some Listings may be posted or available for a specified time period only and Travellers should have regard to those specified time limits for the purpose of determining whether and when to confirm your purchase of those Travel Services.
9. EVENTS BEYOND THE PROVIDER'S CONTROL
If a Provider becomes unable, wholly or in part, to carry out an obligation under this agreement, due to a Force Majeure Event, the Provider must give to the Traveller prompt written notice of:

reasonable details of the Force Majeure Event; and
so far as is known, the probable extent to which the Provider will be unable to perform or be delayed in performing its obligation.

Subject to compliance with clause 8(a), the relevant obligation will be suspended during the Force Majeure Event to the extent that it is affected by the Force Majeure Event.
The Provider must use its best endeavours to overcome or remove the Force Majeure Event as quickly as possible.
If the Provider is unable to overcome or remove the Force Majeure Event, or otherwise provide alternatives to perform their obligations, the Provider must provide a full refund to the Traveller (subject to the Provider's refund policies provided to the Traveller prior to making a Booking).
For the purposes of this agreement, a 'Force Majeure Event' means any:

act of God, lightning strike, meteor strike, earthquake, storm, flood, landslide, explosion or fire;
strikes or other industrial action outside the control of the Affected Party;
war, terrorism, sabotage, blockade, revolution, riot, insurrection, civil commotion, epidemic, pandemic; or
any decision of a government authority in relation to COVID-19, or any threat of COVID-19 beyond the reasonable control of the Affected Party, to the extent that it affects the Provider's ability to perform its obligations.
10. CHANGES TO BOOKINGS AND CANCELLATION BY A PROVIDER
10.1 CANCELLATION BY A PROVIDER
Subject to clause 8, a Provider must endeavour not to cancel a Booking once payment has been made by the Traveller.
If a Provider needs to cancel a Booking once payment has been made, the Provider must:

contact YHC and provide reasons to explain the cancellation and, if applicable, offer alternative Travel Services to the relevant Traveller; and
YHC will liaise with the Traveller on the Provider's behalf and if a workaround cannot be agreed on with the Traveller in relation to the Booking, the Provider will need to issue a refund to the Traveller for the Booking.

If a Provider cancels a booking in accordance with this clause and the Traveller does not accept alternative Travel Services:

YHC will retain the Commission; and
the Provider will be liable to reimburse the Traveller the entire Booking Fee, including the Commission at the Provider's expense.
10.2 CANCELLATION BY A TRAVELLER
Once a Traveller has made payment for Travel Services on the Platform, any changes to bookings by Travellers, including but not limited to changes of names, dates or destinations (Changes) or cancellations of any Bookings (Cancellations) will be subject to the Provider's terms and conditions in relation to Changes and Cancellations.
The Traveller must request any Changes and Cancellations by contacting YHC, who will liaise with the relevant Provider on the Traveller's behalf.
Travellers acknowledge and agree that the Booking Fee is non-refundable and Providers may impose additional fees in relation to any Changes or Cancellations by Travellers.
11. REFUNDS, CREDIT AND COMPLAINTS
11.1 COMPLAINTS
Any Traveller complaints should be directed to YHC and not to the Provider directly. Any requests for a refund or store credit (YHC Travel Credit) should be made in accordance with clause 9.4 and 9.5 below.
11.2 REFUNDS
Any refund requests in relation to any Bookings or Travel Services should be made directly to YHC. Any such request will be subject to the Provider's policies or terms and conditions.
All payments made to YHC for Travel Services are deemed to be made to the Provider and YHC is not responsible for any refunds a Provider may be required to give. Despite this, the Provider may refund the Traveller where the Traveller seeks a refund from the Provider, and the Provider has refunded that amount to YHC.
The Provider is solely responsible for the supply and provision of returns and refunds of any Travel Services booked. Each Provider will have their own refund and return policy and it is strongly encouraged that the Traveller check with the relevant Provider before confirming the booking. Whilst Providers are obliged by law to provide a refund, return or permit a cancellation, YHC makes no representations that Providers will comply with such obligations and accept no responsibility if they fail to do so. All refunds and cancellation fees are subject to the Traveller's rights under the ACL.
Any Subscription Fees and Commission received by YHC are non-refundable unless YHC has materially breached this agreement.
11.3 YHC TRAVEL CREDIT
Where YHC Travel Credit is issued instead of a refund, the terms in clause 9.4 above also apply.
YHC Travel Credit is valid for 3 years from the date of issue. You acknowledge and agree that YHC Travel Credit is non-refundable and cannot be redeemed for cash under any circumstances.
11.4 GO DOLLARS
Go Dollars are redeemable only on selected travel items. Should the Go Dollars applicable be less than $100, a discount will be applied at time of booking instead of Go Dollars being applied. Should your request for a cruise line not include a participating cruise line you may still be able to receive a discount. Subject to availability.
12. RESTRICTIONS ON BYPASSING
Correspondence between Users must take place on the Platform. Users must ensure that their Account does not display any of their personal contact information at any time such that it can be viewed by any other User. Users agree to not give their contact details to any other User.
Users agree that they must not, either directly or indirectly, solicit or attempt to solicit any business, work, income or other benefit, from any other User whom they came to know about, or with whom they provided Travel Services to directly or indirectly, by using the Platform. This provision will apply whether or not either of the Users is still active on the Platform.
YHC may, in its absolute discretion, cancel an Account and suspend a User from using the Platform if it finds or suspects that the User has breached this clause 11.
13. THIRD PARTY PROVIDERS
Travellers acknowledge and agree that:
the Platform provides links and introductions to Providers owned and operated by third parties that are not under the control of YHC;
the provision by YHC of introductions to Providers does not imply a recommendation by YHC of any Provider and should be relied on by Travellers as general information only;
YHC does not examine, determine or warrant the certification and/or licensing, competence, solvency or information of any Provider who uses or is listed on the Platform; and
any terms and conditions relating to a good or service, Listing or Booking Fees provided via the Platform constitute a contract between a Traveller and the Provider and do not involve YHC in any way.
14. USER OBLIGATIONS
As a User, you agree:
to ensure you have read the fine print associate with the promotion you have purchased and promptly provide all information.
that you are solely responsible for ensuring you have a valid passport, visa and re-entry permit (as required) and any fines, penalties, payments or expenditures incurred as a result of such documents not meeting the requirements of any applicable authorities are also your sole responsibility;
that you are aware of any health requirements and recommended precautions to travel, including any requirements or recommendations that are specific to any pre-existing medical conditions you may have. You understand that YHC will not be responsible for providing such information to you and accepts no liability for any loss or damage suffered as a result of not being aware of health requirements;
to inform YHC of any special requirements or requests for the Travel Services at the time of Booking including, without limitation, requests for particular bedding arrangements (for example, twin share, separate beds or additional rollaway beds), disability access requests or seating requests. YHC will use reasonable endeavours to ensure your Booking includes these requests however cannot guarantee that the Provider will comply with any such request;
not to intimidate, harass, impersonate, stalk, threaten, bully or endanger any other User or distribute unsolicited commercial content, junk mail, spam, bulk content or harassment;
to not share your Account with any other person and that any use of your Account by any other person is strictly prohibited. You must immediately notify YHC of any unauthorised use of your Account, password or email, or any other breach or potential breach of the Platform's security;
to not use the Platform for any purpose other than for the purpose of making arrangements to provide or receive Travel Services, including:

you must not use the Platform in a manner that is illegal or fraudulent or facilitates illegal or fraudulent activity (including requesting or accepting a job or a sale which includes illegal Travel Services, activities or purposes); and
you must not use the Platform in connection with any commercial or money making or other promotional or marketing endeavours except those that are endorsed herein, or as approved in writing by YHC;

not to act in any way that may harm the reputation of YHC or associated or interested parties or do anything at all contrary to the interests of YHC or the Platform;
you must not make any automated use of the Platform and you must not copy, reproduce, translate, adapt, vary or modify the Platform without the express written consent of YHC;
that YHC may change any features of the Platform or Travel Services offered through the Platform at any time without notice to you;
that information given to you through the Platform, by YHC or another User including a Provider, is general in nature and we take no responsibility for anything caused by any actions you take in reliance on that information; and
that YHC may cancel your account at any time, including if it considers, in its absolute discretion, that you are in breach or are likely to breach this clause 13.
15. USER'S CONTENT POSTED ON THE PLATFORM
15.1 WARRANTIES
By providing or posting any Listings, questions, information, materials or other content on the Platform (Posted Content), you represent and warrant that:
you are authorised to provide the Posted Content (including by being authorised to provide any services that you represent you provide);
the Posted Content is accurate and true at the time it is provided;
any Posted Content which is in the form of a review or feedback is honest, accurate and presents a fair view of the relevant person and/or your experience;
the Posted Content is free from any harmful, discriminatory, defamatory or maliciously false implications and does not contain any offensive or explicit material;
the Posted Content is not "passing off" of any good or service of another entity and does not constitute unfair competition;
the Posted Content does not infringe any Intellectual Property Rights, including copyright, trademarks, business names, patents, confidential information or any other similar proprietary rights, whether registered or unregistered, anywhere in the world;
the Posted Content does not contain any viruses or other harmful code, or otherwise compromise the security or integrity of the Platform or any network or system; and
the Posted Content does not breach or infringe any applicable laws.
15.2 LICENCE
All Users grant to YHC a perpetual, irrevocable, transferable, worldwide and royalty-free licence (including the right to sublicense) to use, copy, modify, reproduce and adapt any Intellectual Property Rights in any Posted Content in order for YHC to use, exploit or otherwise enjoy the benefit of such Posted Content, including for advertising and promotional purposes.
If it is determined that you retain moral rights (including rights of attribution or integrity) in any Posted Content, you forever release YHC from any and all claims that you could assert against YHC by virtue of any such moral rights.
You indemnify YHC against all damages, losses, costs and expenses incurred by YHC arising out of any third party claim that your Posted Content infringes any third party's Intellectual Property Rights.
15.3 REMOVAL
YHC acts as a passive conduit for the online distribution of Posted Content and has no obligation to screen Posted Content in advance of it being posted. However, YHC may, in its absolute discretion, review and remove any Posted Content (including links to you, your profile or listings you have posted on the Platform) at any time without giving any explanation or justification for removing the Posted Content.
You agree that you are responsible for keeping and maintaining records of Posted Content.
15.4 THIRD PARTY CONTENT
The Platform may contain text, images, data and other content provided by a third party and displayed on the Platform (Third Party Content). YHC accepts no responsibility for Third Party Content and makes no representation, warranty or guarantee about the quality, suitability, accuracy, reliability, currency or completeness of Third Party Content.
16. SERVICE LIMITATIONS
The Platform is made available to you strictly on an 'as is' basis. Without limitation, you acknowledge and agree that YHC cannot and does not represent, warrant or guarantee that:
the Platform will be free from errors or defects;
the Platform will be accessible at all times;
messages sent through the Platform will be delivered promptly, or delivered at all;
information you receive or supply through the Platform will be secure or confidential; or
any information provided through the Platform is accurate or true.
17. PROTECTION OF INFORMATION
17.1 CONFIDENTIALITY
You agree that:
no information owned by YHC, including system operations, documents, marketing strategies, staff information and Traveller information, may be disclosed or made available to any third parties; and
all communications involving the details of other Users on this Platform and of the Provider are confidential and must be kept as such by you and must not be distributed nor disclosed to any third party.
17.2 PRIVACY
You agree to be bound by the clauses outlined in YHC's Privacy Policy, which can be accessed here.
17.3 INTELLECTUAL PROPERTY
YHC retains ownership of all materials developed or provided (or both, as the case may be) in connection with the Platform (including text, graphics, logos, design, icons, images, sound and video recordings, pricing, downloads and software) (Platform Content) and reserves all rights in any Intellectual Property Rights owned or licensed by it not expressly granted to you.
You may make a temporary electronic copy of all or part of the Platform Content for the sole purpose of viewing it. You must not otherwise reproduce, transmit, adapt, distribute, sell, modify or publish the Platform Content without prior written consent from YHC or as permitted by law.
In this clause 15(e), "Intellectual Property Rights" means all copyright, trade mark, design, patent, semiconductor and circuit layout rights, trade, business, company and domain names, confidential and other proprietary rights, and any other rights to registration of such rights whether created before or after the date of this agreement both in Australia and throughout the world.
17.4 RECORDS AND AUDITS
To the extent permitted by law, YHC reserves the right to keep all records of any and all transactions and communications made through this Platform between you and other Users (including conversations, User posts, bids, comments, feedback, cookies, and I.P. address information) for administration purposes and also holds the right to produce these records in the event of any legal dispute involving YHC.
18. DISPUTES BETWEEN USERS
You should direct any complaint relating to another User to that User. Users must take all reasonable steps to resolve any dispute with another User with that User.
YHC will not be responsible or liable for resolving any complaints between Users in relation to Travel Services or another User of the Platform. If you report any complaints or disputes to YHC, YHC may refer you to a mediator or arbitrator to assist in resolving your dispute. The cost of any mediator or arbitrator must be shared equally between each of the parties to the dispute.
YHC reserves the right to hold funds in relation to a dispute until the dispute is resolved, either by us, the relevant parties or by a mediator or arbitrator. We reserve the right to disperse funds held by us as we see fit, including by providing a User a refund.
Any costs you incur in relation to a complaint or dispute will be your responsibility.
If you have a dispute with YHC, you agree to notify us first and enter into discussion, mediation or arbitration with us for a minimum of a 120-day period before pursuing any other proceedings.
Notwithstanding any other provision of this clause 17, you or YHC may at any time cancel your Account or discontinue your use of the Platform.
19. TRAVEL INSURANCE
All Travellers are strongly encouraged to purchase travel insurance from a reputable insurance provider prior to engaging in the Travel Services.
Travellers acknowledge and agree that use of this Platform or the payment of any Subscription Fees does not include or constitute the purchase of any travel insurance of any kind.
By using the Platform and purchasing Travel Services, you agree and acknowledge that there are inherent risks with travel and that you will be solely responsible for mitigating your risks and obtaining your own travel insurance.
20. DISCLAIMER
(Security) YHC does not accept responsibility for loss or damage to computer systems, mobile phones or other electronic devices arising in connection with your use of the Platform. You should take your own precautions to ensure that the process you employ to access the Platform does not expose you to the risk of viruses, malicious computer code or other forms of interference.
(Introduction service) YHC is a medium that facilitates the introduction between Travellers and Providers for the purposes of buying and selling Travel Services. YHC simply collects a Commission in consideration for providing this introduction service and does not have any obligations or liabilities to, and is not a party to any contract between, Travellers and Providers in relation to such Travel Services or otherwise resulting from the introduction.
(Limitation of liability) To the maximum extent permitted by applicable law, YHC excludes completely all liability to any person for loss or damage of any kind, however arising whether in contract, tort (including negligence), statute, equity, indemnity or otherwise, arising from or relating in any way to the Platform for its use or any Travel Services provided by any Provider. This includes the transmission of any computer virus.
(Disclaimer) All express or implied representations and warranties are, to the maximum extent permitted by applicable law, excluded. Where any law (including the

 

Competition and Consumer Act 2010

 

(Cth)) implies a condition, warranty or guarantee into this agreement which may not lawfully be excluded, then to the maximum extent permitted by applicable law, YHC's liability for breach of that non-excludable condition, warranty or guarantee will, at our option, be limited to:

in the case of Travel Services, the supply of the Services again, or the payment of the cost of having them supplied again.

(Indemnity) You agree to indemnify YHC and its employees and agents in respect of all liability for loss, damage or injury which may be suffered by any person arising from you or your representatives':

breach of any term of this agreement;
use of the Platform; or
your provision or receipt of Travel Services from another User.

(Consequential loss) To the maximum extent permitted by law, under no circumstances will YHC be liable for any incidental, special or consequential loss or damages, or damages for loss of data, business or business opportunity, goodwill, anticipated savings, profits or revenue arising under or in connection with the Platform, this agreement or their subject matter, or any services provided by any Provider (except to the extent this liability cannot be excluded under the

 

Competition and Consumer Act 2010

 

(Cth)).
21. TERMINATION
YHC reserves the right to terminate a User's access to any or all of the Platform (including any Account, Listings and other memberships) at any time without notice, for any reason.
In the event that a User's Account, access or membership is terminated:

the User's access to all posting tools on the Platform will be revoked;
the User will be unable to view the details of all other Users (including contact details, geographic details, any other personal details and service listings or requests); and
the User may be unable to view the details of all Providers (including contact details, geographic details and any other details), and all Listings previously posted by the respective User will also be removed from the Platform.

Users may terminate their Account or membership on the Platform at any time by using the Platform's functionality where such functionality is available. Where such functionality is not available, YHC will effect such termination within a reasonable time after receiving written notice from the User.
Notwithstanding termination or expiry of your Account or membership or this agreement, any provision which by its nature would reasonably be expected to be complied with after termination or expiry, will continue to apply.
22. NOTICES
A notice or other communication to a party under this agreement must be:
in writing and in English; and
delivered via email to the other party, to the email address specified in this agreement, or if no email address is specified in this agreement, then the email address most regularly used by the parties to correspond for the purposes of the subject matter of this agreement as at the date of this agreement (Email Address). The parties may update their Email Address by notice to the other party.
Unless the party sending the notice knows or reasonably ought to suspect that an email was not delivered to the other party's Email Address, notice will be taken to be given:

24 hours after the email was sent; or
when replied to by the other party,
whichever is earlier.
23. GENERAL
GOVERNING LAW AND JURISDICTION
This agreement is governed by the law applying in Queensland, Australia. Each party irrevocably submits to the exclusive jurisdiction of the courts of Queensland, Australia and courts of appeal from them in respect of any proceedings arising out of or in connection with this agreement. Each party irrevocably waives any objection to the venue of any legal process on the basis that the process has been brought in an inconvenient forum.
WAIVER
No party to this agreement may rely on the words or conduct of any other party as a waiver of any right unless the waiver is in writing and signed by the party granting the waiver.
SEVERANCE
Any term of this agreement which is wholly or partially void or unenforceable is severed to the extent that it is void or unenforceable. The validity and enforceability of the remainder of this agreement is not limited or otherwise affected.
JOINT AND SEVERAL LIABILITY
An obligation or a liability assumed by, or a right conferred on, two or more persons binds or benefits them jointly and severally.
INTERPRETATION


(singular and plural) words in the singular includes the plural (and vice versa);
(gender) words indicating a gender includes the corresponding words of any other gender;
(defined terms) if a word or phrase is given a defined meaning, any other part of speech or grammatical form of that word or phrase has a corresponding meaning;
(person) a reference to "person" or "you" includes an individual, the estate of an individual, a corporation, an authority, an association, consortium or joint venture (whether incorporated or unincorporated), a partnership, a trust and any other entity;
(party) a reference to a party includes that party's executors, administrators, successors and permitted assigns, including persons taking by way of novation and, in the case of a trustee, includes any substituted or additional trustee;
(this agreement) a reference to a party, clause, paragraph, Table, exhibit, attachment or annexure is a reference to a party, clause, paragraph, Table, exhibit, attachment or annexure to or of this agreement, and a reference to this agreement includes all Tables, exhibits, attachments and annexures to it;
(document) a reference to a document (including this agreement) is to that document as varied, novated, ratified or replaced from time to time;
(headings) headings and words in bold type are for convenience only and do not affect interpretation;
(includes) the word "includes" and similar words in any form is not a word of limitation; and
(adverse interpretation) no provision of this agreement will be interpreted adversely to a party because that party was responsible for the preparation of this agreement or that provision.
Step 1. Purchase your Access Voucher
Pay your $79 deposit paid voucher to secure your package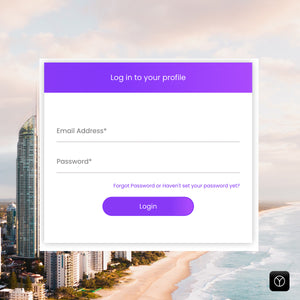 Step 2. Log In
visit www.affordableholidays.com.au and login using your details on your confirmation voucher